TRANSACTION PROCESS
1) Process for customer
Step 1: Log in to your account on Emartmall and choose store. Customer must have default address within the delivery area of the selected store. For delivery areas, please refer to the Shipping - Delivery Policy. In case you have not selected the correct default address, please go to Address Book to change or add a new address.
For detailed instructions on how to register as a member, please see here.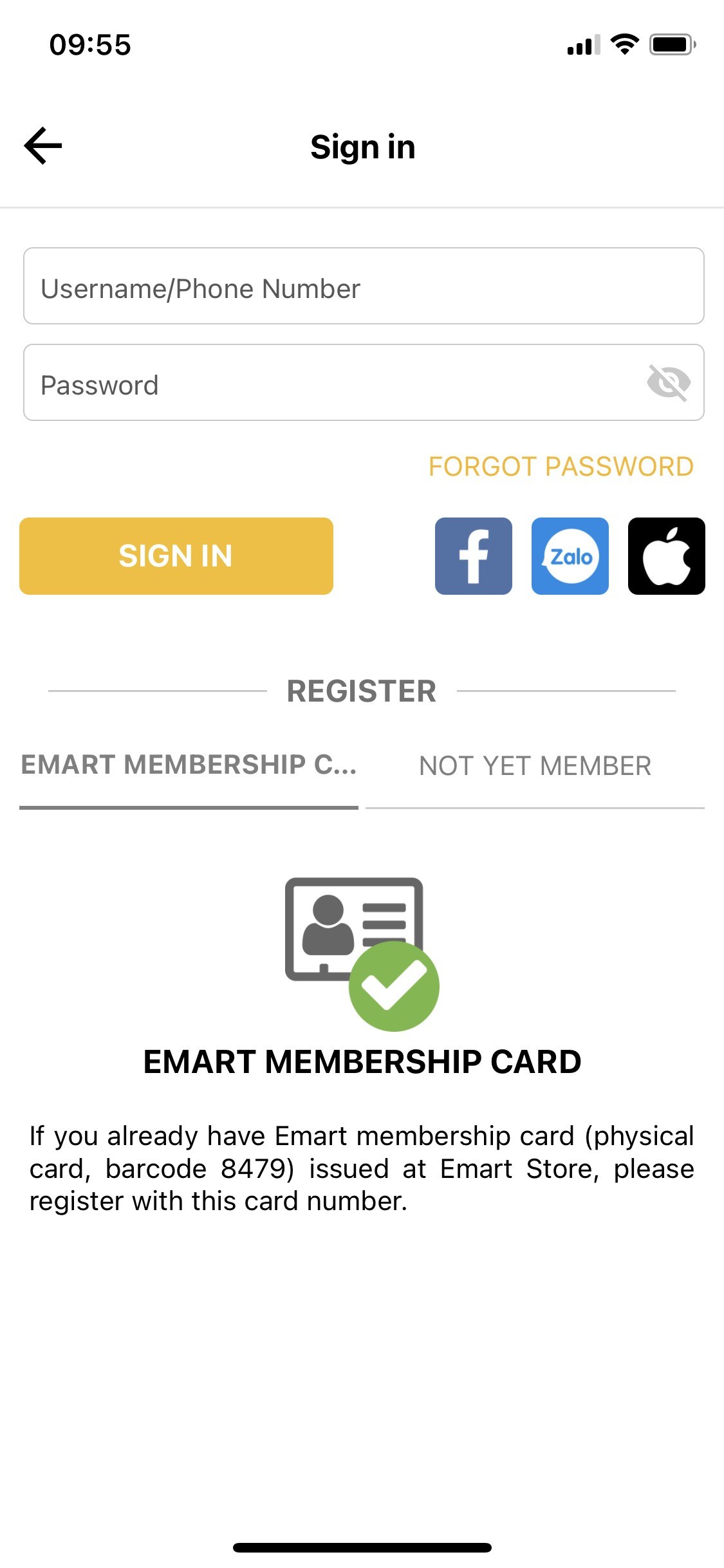 Step 2: After selecting goods and viewing detailed prices, choose the quantity you want to buy and press the "Add to cart" button. Then check the selected items in the shopping cart again.
Step 3: Choose order receiving method (Shipping or Pick up).
- For "Shipping" option: Fill in all the delivery information including recipient's address, name, phone number and desired delivery time frame to receive order.
- For "Pick up" option: Fill in all the delivery information including the recipient's name and phone number. (The address will be entered automatically as store's address and Emartmall will contact customer to pick up after packing the order).
* In case of unsuccessful delivery:
- For "Shipping" order that have been contacted more than 03 times to delivery but still not delivered successfully, Emartmall will cancel the order and refund (if any).
- For "Pick Up" orders that have been packed and after 03 times of contact confirmation to pick up but the customer has not yet come, Emartmall will cancel the order and refund (if any).
Step 4: Choose payment method, use membership points, give information for VAT invoice issuance (if any) and choose processing method when the product is out of stock. After checking all information, you press the "Confirm" button to complete the order. Emartmall will send you a message confirming your order has been successfully ordered along with the order number.
Step 5: After receiving the order,
- For "Shipping" option: Emartmall will deliver to provided address and contact recipient's phone number. In case the recipient cannot be contacted, the delivery time may be later than expected.
- For "Pick up" option: Emartmall will contact customer to pick up after processing the order. Customers please go to the "Pick-up Service" at Emart Store and contact Hotline: (028) 3622 4567 or press intercom to contact Emartmall's staff.

Step 6: Emartmall delivers the goods and hands over the purchase invoice with the stamp of Delivered.
Step 7: Check the goods with the delivery staff and sign to confirm receipt of the goods on the delivery invoice. If the product has problems with packaging, expiry date,... hand it over to Shipper staff for exchange/refund.

In case of returning goods after delivery is completed, please check the EXCHANGE/ RETURN/ CANCELLATION AND REFUND POLICY for reference.

Step 8: After successful delivery, Emartmall issues an electronic VAT invoice (if required) via the email provided by the customer.
2) Shipping - Delivery policy
Delivery time starts from the time the Member's order is confirmed successfully.
Emartmall.com.vn free delivery of orders from 300,000 VND within 5 km, with orders 500,000 VND for over 5 km from E-Mart Store and charging 5,000 VND/km for with orders outside the above range.
3) Warranty conditions
- The warranty period (based on stamps/warranty cards/or the time of activating the electronic warranty)
- Stamps/warranty cards left
- Defective goods
- Cases may incur warranty fees:
+ Goods are out of warranty
+ Goods are broken, deformed, burnt, exploded, damp in engines... by users.
When in need of warranty for the goods, please contact the local service center directly (if any). In case you are too far from the warranty center or have other inconveniences and cannot come to the warranty directly, you can send goods to Emartmall, depending on the circumstances, Emartmall will support sending goods for warranty.
4) Return and exchange policy
Emartmall customers have the right to request a return or exchange within 15 days of receipt.
Customers bring products to be exchanged and returned along with the original purchase invoice and VAT invoice (if any) to the Customer Service at Emart to return.
For electronics, the exchange return will comply with the provisions of each brand specified in the product warranty card.
Products not applicable for exchange/return:
- Alcohol, tobacco, fresh food, frozen food, refrigerated food, semi-processed or cooked food, products with a shelf life of less than 15 days
- Cosmetics, accessories, underwear
- Gifts in sales promotions, liquidated goods.
- The product is damaged due to non-compliance with manual or storage instructions of manufacturer.
Receiving address:
Emart Go Vap - 366 Phan Van Tri, Ward 5, Go Vap District, Ho Chi Minh City.
Emart Sala - B1 floor Thiso Mall, 10 Mai Chi Tho, Thu Thiem Ward, Thu Duc City.
** Note: You are responsible for the integrity of the goods when sending to Emartmall.
Emartmall encourages you to consult the Return and Exchange Policy to ensure your goods are eligible for return.

5) Regulations on subjects to apply gift promotion when buying goods on Emartmall

- All customers who meet the eligibility criteria for the gift promotion event.

- Not applicable to gift giving to wholesale customers, grocery business customers,... according to Emart's Decision.